Stone paper is a great choice, both from the user experience point of view as well as from an environmental standpoint. It is simply a perfect win-win product.
Stone paper is a great invention - environmentally friendly while at the same time providing an enhanced paper experience. Stone paper feels a bit like eggshells to the touch, and it is both water and greaseproof as well as resistant to tearing. It will give you no paper cut and still it is possible to fold so you can keep making paper planes whenever you feel like it.

Stone paper is naturally white and therefore needs no bleach when manufactured. It is bright and since it is resistant to grease and smear, you will never have any coffee stains in your notebooks.
Brief history Stone Paper
Stone paper was first produced in Taiwan in the late 1990s. It has been used as a coating film in, for example, the food industries for a long time, but lately, end-customer applications have popped up. Its unique set of characteristics makes it a great choice for anybody who uses pulp paper today.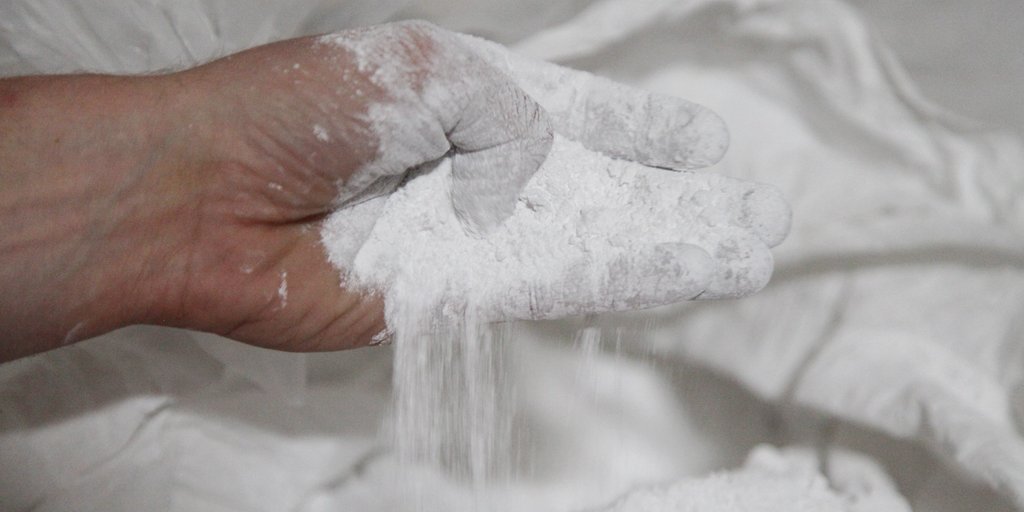 Our process and paper
Stone paper is made from leftovers from construction sites, such as limestone and marble. The stone is crushed to a fine powder which is then mixed with a non-toxic and recycled high-density polyethylene, forming the paper. No acids, water or bleach are used in the process and the power needed for the process is produced by solar panels on the plant.
Common questions
There are a lot of questions about stone paper, and to increase the knowledge about the great product, we will answer some of them here:
Stone paper is just what it sounds like - paper, but made out of stone instead of trees.
What is stone paper made out of?
Finely ground limestone is combined with bio-polyethylene resin to make a smooth, waterproof and durable product.
Is stone paper better for the environment?
Stone paper is better for the environment since it requires no water nor chemicals when manufactured.
Is stone paper waterproof?
Stone paper is waterproof and also greaseproof.
Where is stone paper made?
Rahmqvist Avico has a factory for producing stone paper in Taiwan.
Benefits with Stone Paper
Stone paper carries a lot of benefits compared to regular pulp paper.

First and foremost, the environmental impact when producing the stone paper is a lot smaller compared to pulp paper. No water nor any chemicals are needed to provide stone paper with its unique set of characteristics.

Then there is the other side of it - the user experience. Stone paper is soft to the touch and does not give any paper cuts. Your pen will glide over the stone paper frictionless as there are no grains. Because of the texture, stone paper holds ink perfectly and does not bleed through, making it a great choice for those who prefer fountain pens.
Disadvantages with Stone Paper
The only disadvantage that we can think of when it comes to stone paper is the price - it is a bit more expensive to buy than pulp paper. On the other hand, even if the price is higher right now, the environmental benefits from choosing stone paper may well make up for it in the long run.
Stone Paper applications
Stone Paper can be used for anything that you would use pulp paper for. Some examples are:
Maps - the durability of stone paper makes it a perfect match for maps that must withstand rough conditions.
Notebooks - stone paper is wonderful to write on since there are no grains and your pen will just float across the pages.
Pots - flower pots made from stone paper bags brings a nice touch to your home.
Soapboxes - as stone paper is grease proof it is a perfect material for soapboxes.
Bags - paper bags made from stone paper are durable and withstands bad weather really well.
Envelopes - using stone paper envelopes will protect your letters against all kinds of wear.
Sketchbooks - the unique experience of sketching on a grain free stone paper will get you hooked in minutes and you will never want to change back to pulp paper again.
Final words
Stone paper is a great choice, both from the user experience point of view as well as from an environmental standpoint. It is simply a perfect win-win product.

Apart from being extremely versatile in the possible applications, using stone paper for writing or sketching provides a sensation that is difficult to describe. The feeling of the pen on the paper, where no grains create a resistance, is a completely new and compelling sensation.